Common Mistakes People Make When Hiring A Home Inspector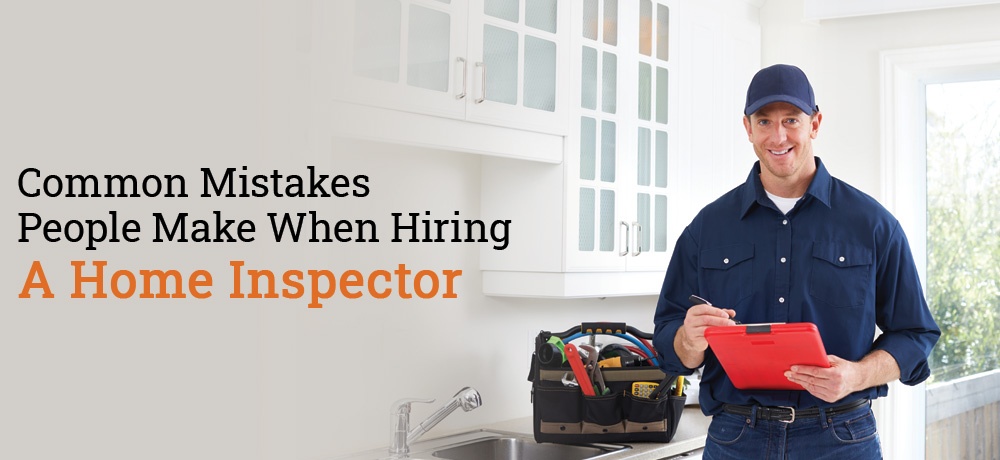 Before finalizing your property and signing the deal, make sure it is professionally inspected. A thorough home inspection will make you aware of current and potential hazards such as plumbing leaks, electrical hazards, structural concerns, roofing issues, etc. While some people may opt to inspect their homes themselves we advise against it, even if you're an experienced electrician or plumber. You see, the problem would be two-fold. 1 - you're too close emotionally. If you're excited you're going to be swayed by that emotion, not to mention you won't be at your best for looking at the hundreds of items we check for every day. And 2 – Your opinion of issues found will be biased. This is one of the fundamental beauties of home inspection. We are paid for honest, unbiased opinions. We don't make our living contingent on clients buying or not. It's "just the facts ma'am".
Many homeowners make avoidable mistakes when hiring a home inspector and get a subpar experience. To prevent this error and find a professional that exceeds your expectations, The Home Coach has compiled a list of the most common mistakes people make when hiring a home inspector and how you can avoid them.
1. Hiring based on cost
When choosing any professional, it's essential to assess the experience they carry and the services they offer. Same with hiring a home inspector. Price should not be the main deciding factor in determining whether you want to work with an inspector or not. Look at their expertise, knowledge, and the quality of services they offer.
2. Not vetting the inspector
In Ontario, there are no mandatory regulations or licensing requirements in the home inspection industry. Anyone can call themselves a home inspector. However, what sets a professional home inspector from an amateur are credentials, reputation, and reviews. Make sure to go through your home inspector's website and talk to the people they've worked with. Professional Realtors, lawyers and mortgage brokers likely have contacts you can trust as well.
3. Waiting for the last minute to hire a professional
Most homebuyers conduct advance screenings before enlisting the services of a realtor or a contractor. However, those same homebuyers wait until the last minute to start their search for a reliable home inspector. It's wise to start looking for a home inspector when you begin house hunting.
4. Not knowing the limitations
Sometimes, there is a disconnect between what clients think a home inspector can see and what limits a home inspector's review of any home. For instance, if there's a leak under the kitchen sink, your home inspector is probably going to find that. But, if there's a minor roof leak that only lets in the rain when the wind is from the south it could be challenging for even the most experienced home inspector to identify. Many clients change to Some clients don't realize that inspectors can only note the potential problems that present themselves at the time of the inspection.
5. Failing to go through the range of services
What kind of services does your home inspector offer? What do they specialize in? Do they provide guarantees and warranties to cover you after the inspection? It's essential that you ask your home inspector these and other questions to understand their services. Don't make the mistake of hiring a professional without knowing what they have to offer.
To avoid these and other mistakes related to home inspection, reach out to the experts at The Home Coach. As trusted and certified home inspectors, we're always on the quest to deliver the best home inspection experience to our clients. With over fourteen years of experience, we can provide our clients with a thorough home inspection and a comprehensive report. We also provide our clients with industry-leading warranty coverages. To learn more about these warranties, please click here.
We deliver a range of professional home inspection services to clients across Mississauga, Aurora, Brampton, Guelph, Markham, Newmarket, Richmond Hill, Nobleton, Oakville, Orangeville, Schomberg, Shelburne, Bolton, Caledon, Georgetown, Halton Hills, Thornhill, Vaughan, Alliston, Tottenham, and the surrounding areas.
To learn about the services we offer, please click here. To get in touch with us, please click here.
---
---